Filter by Category
All About Vaccines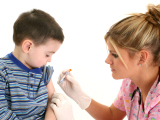 All About Vaccines 11/09

Nov 9, 2017 at 6 pm
Learn the newest information about vaccinations from one of Southern Maine's outstanding pediatricians. He will explain the science behind vaccines, the current child vaccination schedule, new vaccine methods, and share tools and tips for making the best decisions for your child and family. There will be lots of time for questions. Come and join us!
Class Testimonials:
"Instructors are very engaging."
"Clear concise information and great questions and answers."
Course will run