Filter by Category
Helping Your Baby Sleep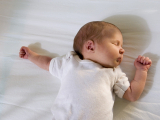 Helping Your Baby Sleep 12/02 6p-8p

Dec 2, 2019 at 6 pm
Registration is per person.
Expecting Parents & Parents of Babies 0 - 6 Months: It's no surprise that having a newborn means little sleep! But there are things you can do to help keep your family well-rested. Join Maine's only Family Sleep Institute Certified Child Sleep Consultant to learn how to establish healthy sleep habits in babies from newborn through 6 months old. Babies in arms are welcome!
This class will cover:
Maximizing sleep in newborns
Helping your baby learn day from night
Preventing the dreaded "4 month sleep regression"
Handling teething, illness, and other sleep stealers
Creating a sleep space that protects and promotes sleep 
We recommend attending this class between the 32nd and 36th week of pregnancy.