Filter by Category
Helping Your Baby Sleep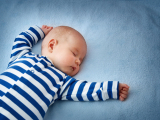 Helping Your Baby Sleep 05/03

May 3, 2018 at 6 pm
Registration is per person.
Expecting Parents & Parents of Babies 0 - 12 Months: It's no surprise that having a newborn means little sleep! But there are things you can do to help keep your family well-rested. Join Maine's only Family Sleep Institute Certified Child Sleep Consultant to learn how to establish healthy sleep habits in babies from newborn through 12 months old. Babies in arms are welcome!
This class will cover:
Maximizing sleep in newborns
Helping your baby learn day from night
Preventing the dreaded "4 month sleep regression"
Handling teething, illness, and other sleep stealers
Creating a sleep space that protects and promotes sleep
Class Testimonials:
"Good information, multiple approaches to try."
"Practical information that I will definitely use!"
"Very energetic. A lot of valuable information."